Trip Overview: There are many handicraft villages that you can visit in and out Hanoi. These Hanoi Handicraft villages specialize in a wide variety of crafts ranging from the making of conical 'non' hats to the production of fine lacquer wares. Deep tradition continues to the present day in Vietnam's famous handicraft villages,
and you'll be amazed by the skill of these artisans. During your Hanoi time, we encourage you to spare at least a day to experience these villages; they are ideal places to visit if you are in love with local arts and crafts, or are searching for an ideal gift or memento of your journey to Vietnam. Hanoi Handicraft Tour is great idea to spend a day out of the busy city
Tour Itinerary
This Hanoi handicraft day tour will visit the special and most traditional handicraft villages in Hanoi outskirts. Those villages have been making unique hand-made wares for centuries. Our tour will start with Duyen Thai Village, which specializes in making lacquered bamboo products.
Then, we head to the embroidery village of Quat Dong to visit another family workshop. In the past time, many of the Vietnamese Emperors and courtiers had their elaborate costumes created here. Nowadays the village makes most of the material that is sold at Hanoi streets. Sit down and carefully attend the hand-weaving patience from the local and you can find lots of stories behind the work they make.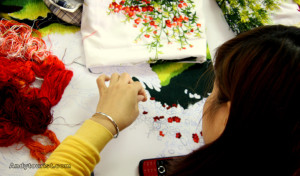 Embroidery Skills – Hanoi
Tour continues to visit Chuon village, also known as the Mother of Pearl village. In this special Hanoi handicraft village,  we discover the intricate and time-consuming art of mother of pearl inlay in objects as diverse as cupboards and jewelry boxes.
Lunch will be served in a special Vietnamese restaurant and we will have some relax before we head to the last village of Bat Trang where we will walk through the village visiting different local factories and observe the ceramic production process. You can also have chance to interact with local people and try your hands at making the ceramics by joining in their production.
Tour route: Bat Trang – Duyen Thai – Quat Dong – Chuon handicraft Villages
Highlights of the trip: Culture exchanges, walking and sightseeing in scenic countryside of Hanoi, learning how to make handicraft, photography, experiencing rural life.
Tour inclusions:
–        Private A/C transportation
–        Local expert English speaking guide
–        Vietnamese food lunch
–        Bottled water
–        All entrance tickets and permission
Tour Exclusions:
–        Personal expenses
–        Gratuity for guide and driver
–        Other drinks
–        Travel insurance
–        Other expenses not above-mentioned
Related Posts