Trip Overview: Luang Prabang is recognized as an UNESCO Heritage town along the Mekong River in northern Laos.  This is perhaps the best traditional and well-preserved town in Southeast Asia. In this highlights of Luang Prabang trip, we will explore streets lined with a unique blend of traditional Lao and French colonial architecture. Visit cultural attractions, including museums and important temples. Learn about Buddhism and its central role in Lao culture. Explore waterfall, visit hill tribe villages, meet silk weavers and contemporary textile designers, and take a memorable cruise on the Mekong, visiting craft villages and caves filled with Buddha statues. Conquer Luang Prabang nature with a lot of fun with us.
* Take a tour around the temples, visit a popular waterfall or cave and soak in Luang Prabang's unique atmosphere;
* Participating in the traditional Lao rite of passage by giving alms to the monks in the early morning;
* Wandering the quiet streets of ancient Luang Prabang;
* Visiting ancient wats (temples), exploring markets and hilltribe villages;
* Boat trip on the Mekong River.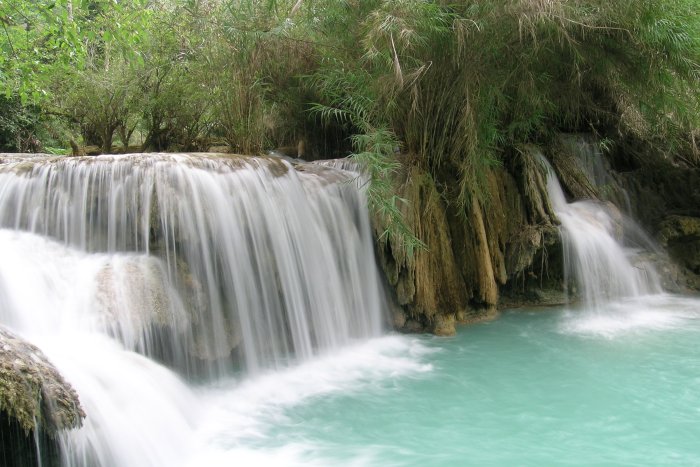 Amazing Kuangsi Waterfall
Tour Itinerary
Day 1: Luang Prabang arrival
Upon arrival at the airport, you'll be met by our guide and transferred to your hotel. Luang Prabang is perhaps the best-preserved traditional city in Southeast Asia. The tranquility and charm of this town with its splendid natural scenery and cultural sights make it one of the most delightful places to visit in Laos. The rest of the day is free at leisure and explore the town on your own way. Stay overnight in Luang Prabang
Day 2: Luang Prabang – Kuang Si Waterfalls (B, L)
Make your day more delightful: early birds can witness and participate in offering alms to hundreds of saffron-robed monks (the Buddhist monks) receive alms from local people – an awe-inspiring sight for many travelers.
If you wish to make an offer, just ask your local guide to prepare some food for you in advance. This early morning ritual dates back generations in Laos. Watch the town come to life in the morning and then return to hotel for breakfast. 
After breakfast at hotel, we take a rural drive to visit Kuangsi Waterfall, though not very high but spectacular and really beautiful with its green surroundings as the preserved National park. We stop en-route to visit a fresh produced market namely Talad Phosy, and also visit Ban Na Oune, a small village of a hill-tribe group "Hmong", probably the best-known minority group in Laos. Just before arriving at Kuangsi waterfall, there is another village of Khmu minority group, namely Ban Tha Pane that we will visit. Our picnic lunch is served at the shady park nearby Kuangsi waterfall. There is plenty of time for relaxing and a swim in cool water, before heading back to Luang Prabang in the late afternoon.
In the afternoon, enjoy a sightseeing tour of the sacred city of temples; of which nearly fifty still remain in the town and surrounding areas. Visit National Museum, the former Royal Palace which houses the collection of valuables including the famous Prabang Buddha statue, gifts received from foreign dignitaries…etc, Wat Visoun, the 16th century temple served as a small museum for religious artifacts; Wat Aham, the early 19th century temple, whose two guardian figures at the foot of the steps which represent two characters from the Ramayana – Hanuman, the Monkey God and a fierce Yaksa; Wat Xiengthong, the 16th century temple, which more than any temples in Luang Prabang, epitomizes all the elegance and grace of Luang Prabang architecture. The rest of the day at your leisure, relaxing in one of the city's many quirky cafés or strolling along the beautiful riverbank. Stay tonight in Luang Prabang.
Day 3: Luang Prabang – Pak Ou cave (B)
Today morning we board a cruise upstream on the Mekong River, which also gives us a beautiful view of the tranquil countryside as well as an interesting visit to the mysterious of Pak Ou Caves (mouth of the Ou river) comprising of the Tham Ting (lower cave) and the Tham Theung (upper cave) which are two caves crammed with thousands of gold lacquered Buddha statues in various shapes and sizes offer by the pilgrimers over the centuries.
Along the way back to Luang Prabang, we stop at the village of Ban Xang Hai, where they make the distillation of local rice wine Lau Hai and Lau Lao (Lao whisky). On return, we take a short drive to Ban Phanom, well known for its hand weaving. Overnight in Luang Prabang.
Day 4: Luang prabang – Elephant Camp (B, L)
Start from your hotel at 8:30 AM, we proceed to the Adventure and Elephant camp located 15 km out of town in the middle of unspoiled, natural green surroundings. Arrival in the Elephant Village, welcome and greeting by our Camp Manager and participate in short briefing. After that we have elephant ride. Enjoy the impressive experience of approx. 1.5 hours elephant ride on the Howdah (Elephant seat) to the Elephant Jungle Camp. Enjoy approx. 1.5 hours walk through a unique natural jungle valley with limestone cascades.
– Lunch will be provided at the Elephant Jungle Camp (Picnic lunchbox and drinking water).
After lunch we visit Tad Sae Waterfall, take a boat trip on the Khan River. Take a short boat trip from the Tad Sae Waterfall to our Elephant Village. We come back to Luang Pracbang town and drop off at your hotel around 04:00 pm.
Day 5: Luang Prabang – Departure (B, L)
Free time at your leisure until the transfer to the airport for departure. End of tour
YOU WANT TO EXTEND YOUR HOLIDAY TO CAMBODIA, VIETNAM? CONTACT OUR TRAVEL EXPERTS FOR MORE DETAILS AND GET BEST RATE!
Related Posts